Brief Breather From Hiatus

Aku tau aku kata tak nak berblogging sampai pertengahan Oktober. Tapi sekarang pukul 4 pagi dan aku tak boleh lelapkan mata. So what the hell... Ironiknya, banyak pulak benda yg menarik utk diceritakan berlaku semenjak aku berazam menghiatuskan diri ni. Tapi kalau aku nak melagukan semuanya di sini, tak tido la aku pagi ni.

Academically, aku masih dalam proses menyiapkan demo set untuk presentation PSM aku which is tentatively due by October 12th. Alhamdulillah, I've got a sporting giler punye supervisor plus two supportive colleagues embarking on the project. And also an MMU lecturer who's been a great help with my C programming. They've been a tremendous help. Tanpa diorang, pastinya aku akan terkontang-kanting dalam ke'ntah-apa-apa'an dunia PSM ni. Other than that, I've got two tests, one ethics presentation, a site visit report and a business plan to submit next week. Tu blum kira upcoming assignments lg. Sabar Im, sabar. Sebulan jer lagi nk tunggang terbalik berguling-guling. Lepas tu boleh meronggeng.

I'm also engaging in a few extra-curricular activities which I hope will settle by this weekend.

Dalam menghadapi ketensionan yg kadangkala memuncak, it's good to have understanding friends around. But sometimes, when I just need to be alone, aku akan ke tasik berhampiran rumah sewa aku ni dan duduk menikmati keindahan alam. Ada semacam satu ketenangan yang sukar diungkapkan kalau aku ke situ. Melihat riak air tasik, anak-anak ikan bermain di permukaan, pohon yang terbuai lembut dipuput bayu, angin sepoi-sepoi bahasa menjamah dan mengeringkan peluh di tubuh, kanak-kanak bermain buaian dan jongkang-jongket. Aku suka tengok keletah budak-budak kecik tu. Diorang mengingatkan aku yang hidup ini hanya indah bila dinikmati. Dan untuk menikmati, terkadang kita perlu meletak dan meninggalkan masalah kita ke tepi. Sebab masalah selalunya mengaburi mata dan mengelabui hati dari menghargai.

Ok, I'm going back to my hiatus. Friends of the blogging world, take care and please pray that everything will go well for me. I'll be around from time to time visiting ur blogs when I can.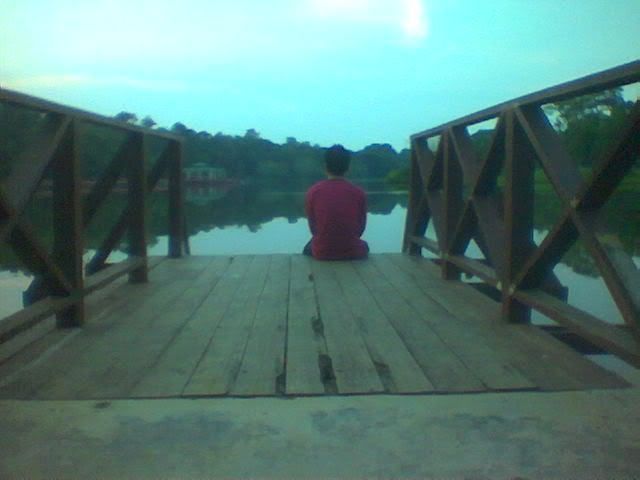 Ala-ala Sepet, minus the significant other